Our range of premium quality milk powders are designed with specific attributes to meet the nourishment needs of our customers. Stringent standards are applied to ensure consistency in product quality and functionality. Our products are used by customers in a wide range of applications. From everyday use, to specialised health & wellness, aged and sports nutrition, beverages, confectionary and bakery.

Our products are manufactured under two brands, 'Majan' and 'Al Diyar', at our state-of-the-art facilities in Dubai.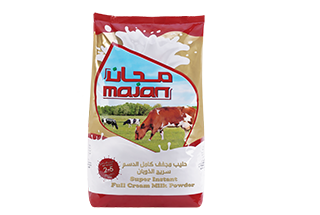 OUR FLAGSHIP BRAND
Majan premium milk powder is a top-shelf brand manufactured from fresh and nutritious cow's milk. It is the choice of discerning customers in our various markets.
Majan premium milk is processed using the latest technology at our state-of-the-art facility in Dubai, and hygienically sealed in aluminium containers flushed with nitrogen to enhance longevity and freshness.